Your Real Estate Resource!
This blog is for buyers and sellers in the Roaring Fork Valley and beyond! Come back every Wednesday for new Real Estate tips and discussions!

5 Different Ways to Spruce Up Your Space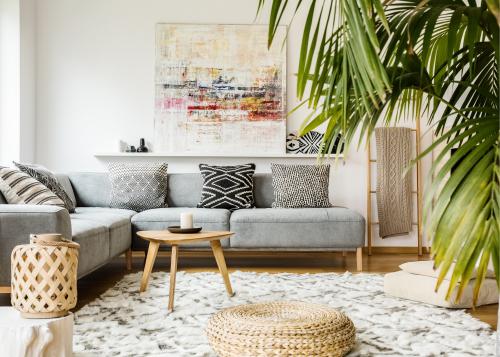 With many of us still working from home, it's no surprise that our houses are starting to feel a tad stagnant. In this post, my goal is to give you five different ways you can change up your space and reinvigorate your living/working area. With just a few simple adjustments, you will immediately feel the difference not only in work productivity, but also in mental clarity and happiness.
1. Throw open those shades
It's amazing how much a little sunlight can improve your mood and with summer in full swing, and there is no better time than now to turn off your overhead light and let the sunshine in! Elevate your mood and productivity, while saving on your electric bill. It's a win-win!
2. Spruce up your decor
Freshen up your space by adding some new color, decor, or furniture. The options here are endless: from removable wallpaper to colorful slip covers, it has never been easier to spruce up your space on a budget! Looking for some inspiration? I highly suggest searching for inspiration on Pinterest.
Image by Canva.com
3. Surround yourself with some new greenery
Summer is the perfect time to add some potted plants and flowers to your indoor living space. Bring the outdoors in and enjoy the fresh look and feel of your space - not to mention the added oxygen! Check out your local farmers market for herbs to create a window sill herb garden or hit up your local garden center to find a variety of indoor plants to add color and personality to your space!
4. Change up the mood
Shift the mood of your room/house from the dark coziness of winter to a warm sunny feel! Store your thick winter blankets away and replace them with some lightweight throws. Add earthy tones to your living space: pick out some lightweight wooden decor and furniture to freshen up your house. With natural tones, you are sure to have a lighter and more airy mood in your whole space!
5. Embrace your creative side
Dig deep and get creative - this process should be invigorating and fun! Push your comfort level and opt for some bold colors or create a new vibe in your house! If renovating or buying new furniture isn't an option right now, simply rethinking your layout can do the trick.
Image from Canva.com
Regardless of what you do, lead with your happiness and mental clarity in mind. Make your living space a place where you want to spend most of your time. You will find that just a few simple adjustments can make a world of difference!